Anything that seems too good to be true probably is. In 2022 we watched this old cliché in action as the crypto boom came crashing down, taking more than a few companies with it. The recovery has been slow.
What once seemed like a niche obsession for early adopters went mainstream in early 2022. After bitcoin — which, by that point, was the elder statesman of cryptocurrencies — hit record highs, the industry went all out to bring attention to crypto. You could not catch a train or watch the Super Bowl without seeing an ad for crypto. The advertising push worked, and crypto prices boomed. 
Crypto was riding high, and early adopters were watching their digital wallets grow fat. But crypto winter was coming. Inflation soared, interest rates rose in response, and instead of being a buffer against the changing winds of the larger economy — as so many investors had hoped — crypto crashed.
By the end of the year, bitcoin's value had tanked and was worth just a quarter of its value at the beginning of the year. But in comparison to some companies, bitcoin got off easy. As NPR reported in December, FTX was valued at $32 billion at the beginning of 2022. "Now, it's bankrupt, more than a million people are worried the money they put into it has vanished, and the company's founder, Sam Bankman-Fried, has been charged with criminal fraud."
It's bad news all around — except, maybe, for web3 gaming. Let us explain. 
Crypto and web3 gaming
Much like cryptocurrency, web3 is based on decentralized blockchain technology, with the aim of delivering a more secure and transparent gaming experience. The advantage of web3 games over more traditional experiences is that they can — and should — provide a more immersive and community-driven gaming experience.
These lofty goals are made possible by eliminating the need for centralized intermediaries and giving players more power and autonomy in their virtual worlds. More immediately, web3 games allow players to own in-game assets and store them in custodial wallets, usually as non-fungible tokens (NFTs). These assets can then be traded in open marketplaces and, potentially, transferred from one web3 game to another. And all of this is made possible through the same marketplaces, digital wallets, and overarching blockchain technology as crypto — making digital currency the obvious choice to fund and fuel the web3 gaming world. 
Why we think the crypto crash is good for web3 gaming
For many, the crypto bust was more than just a shock to the system, it was financially devastating — but to seasoned investors, the dramatic rise and fall was, likely, no surprise. From the gold rush to the dotcom boom of the 1990s, the promise of "easy money" often brings out bad actors, speculators, and hordes of investors who simply don't know what they're getting themselves into. To some, crypto winter was an inevitable season in the lifecycle of a new industry — and for web3 gaming, it was a valuable learning experience.
The crypto crash has revealed bad actors
Inextricably tied to cryptocurrency, web3 will eventually benefit from the outing of bad actors in the space. The crypto dominoes have fallen one after the other, exposing the weaknesses of the industry. Companies that were in web3 gaming to make a quick buck have either absconded with the money or been financially ruined by the crypto crash. Either way, they have largely left the web3 gaming space, making it stronger as a result.
Going through the entire history of the crypto crash and all the asset speculators who were exposed would take more time than we have here, but here's a short list of the highlights:
FTX's Bankman-Fried is currently under house arrest and living with his parents. While we won't know the full extent of his crimes until the trial is over, it's clear that the allegations seem to center on how money flowed from the FTX exchange to Alameda Research and then on to Bankman-Fried himself. The

Federal Government has charged Bankman-Fried

, but the

SEC has also filed civil charges

, alleging he "was orchestrating a massive, years-long fraud, diverting billions of dollars of the trading platform's customer funds for his own personal benefit and to help grow his crypto empire."

Celsius Network, a crypto lender, filed for bankruptcy in July but has been caught up in fraud investigations, customer privacy issues, and a judge even appointed an investigator to look into charges that Celsius was a

Ponzi scheme

— which typically promise high returns and low (or no) risk.

Three Arrows Capital (3AC) is blamed by some crypto insiders (

including, ironically, Bankman-Fried

) for the larger market collapse. As early as 2019 people began to notice 3AC was pushing overpriced opportunities, such as Deribit. In June, the company filed for bankruptcy, but the founders have fled overseas and have been uncooperative with the people liquidating the company's assets.
The same technology — namely blockchain — that enabled cryptocurrency and NFTs has enabled the Play-to-Earn (P2E) phenomenon among gamers. P2E essentially presents gamers with the opportunity to collect cryptocurrencies or ​​NFTs​​ produced in blockchain-based games. Where crypto and NFTs are, money seems to follow — and P2E is no different. Players can buy in-game NFTs or earn cryptocurrency, which can be sold or exchanged. And where there is money to be made, there will be people to exploit the opportunity. 
As Shinnosuke "Shin" Murata, founder of blockchain games developer Murasaki, wrote in Cointelegraph, "The structure of the current GameFi market is token-centric and this can create a number of issues. Project owners issue their tokens which are listed on exchanges first before they announce that they are going to build games. Games are a utility of tokens they issue. So tokens come first, and contents later. This is why the quality and design of games in the blockchain space are so underrated." This also led to an influx of players who didn't care about the gaming experience as they were only there to capitalize on the money-making opportunities. But contrary to what some naysayers believe, we don't think this heralds the end of web3 gaming — in fact, it may be the best thing that could have happened to the burgeoning industry.
Companies still in the web3 gaming space have a long-term vision
When the dotcom bubble burst, it didn't end the internet. Instead, it hit the reset button, giving way to more sustainable business models — ultimately separating the wheat from the chaff. And we think that's exactly what will happen with web3 gaming. 
The crypto crash not only removed bad actors from the space, but it had the unintended consequence of revealing weaknesses in web3 game models. As the virtual gold rush subsides, those who are left in the industry are committed to realizing the potential of web3 games. Here are a few companies in the web3 space that are poised to go the distance:
Axie Infinity —

Sky Mavis' Axie Infinity is one of the largest web3 games in the world – and has been around since nearly the beginning of web3 gaming. Sky Mavis Co-Founder Aleksander Leonard Larsen told

The Block

that the company continues to learn lessons and evolve. New iterations of Axie Infinity will feature more diverse gameplay, including allowing users to gather and redeem collectibles for tokens.

Deadrop  —

Hyped by none other than Dr. Disrespect, Deadrop is a free-to-play multiplayer game built by game developer Midnight Society – which includes over 50 AAA gamedev veterans from franchises like Call of Duty, Halo, and Fortnite. The initial build of the game has already been tested by thousands of gamers who provided crucial feedback for the game studio. Planned platforms for the game include PC, Playstation 5, and Xbox Series X|S.

Big Time –

Big Time is a free-to-play multiplayer action game with metaverse mechanics – such as in-universe building and a player-owned economy. Players play as time travelers, gathering digital collectibles and tokens while solving mysteries in procedurally generated environments. The developer behind the game, Big Time Studios, includes gaming veterans from Epic Games, Rockstar, Riot, Activision, Blizzard, and more. The game is currently in early access for PC.

Illuvium —

Illuvium isn't so much a game as a series of games. It currently has two games in beta, Overworld and Arena, and another game in alpha, Zero. Targeting PC and mobile, these games provide multiplayer experiences where players can collect resources and beasts – which they retain full ownership of, allowing them to trade them on open marketplaces. The games are built and run by Illuvium, a DAO with over 150 global contributors and thousands of token holders.
Ultimately, the companies that will survive to lead the next phases of web3, will build authentic relationships with their players the way game developers have since Atari first popped on the scene decades ago: through engaging games.
What we think the web3 gaming space needs to thrive long-term
Crypto's follies can teach an important lesson to anyone who survived the crash and is still paying attention. For web3 gaming to thrive in the long term, there are a few key things companies can do to ensure their success.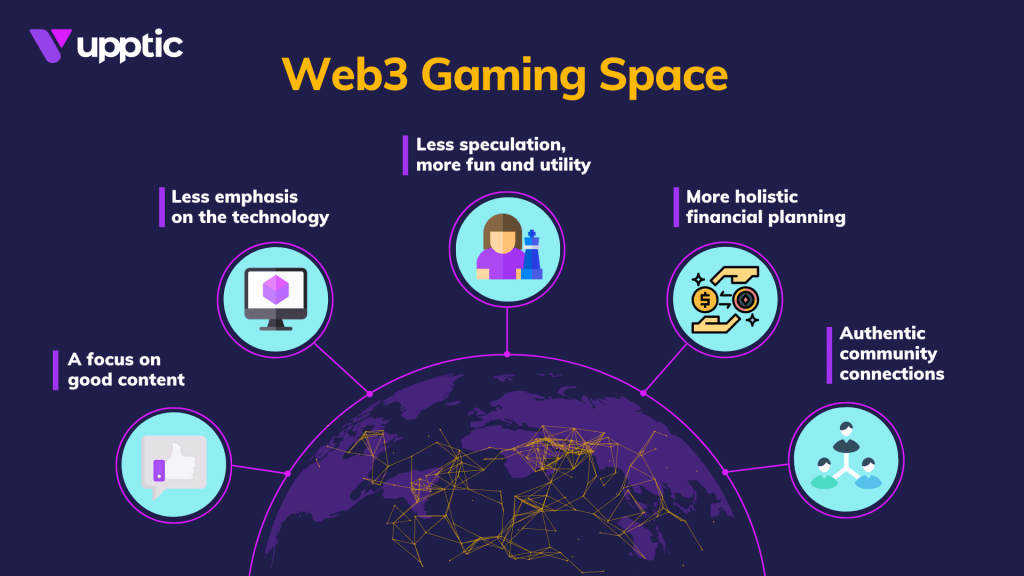 Focus on good content
In the hottest days of web3 games, companies rushed in to fill the demand. With players who were more interested in making money than playing a fun game, it was relatively easy to attract users. Case in point, the economy of the Philippines was disrupted when thousands of workers quit their jobs to earn money in web3 games. With the profit motive (mostly) removed, game makers must go back to basics and attract users the old-fashioned way.
Look up lists of the top web3 games for 2023 and you'll notice they have one thing in common: great content. For instance, "Mighty Action Heroes" makes Geek Metaverse's list of the top 12 web3 games for 2023 for being "a 'thoughtful' web3 game in which the multiplayer battle game aims to recapture the fun and fantasy that traditional gamers have grown accustomed to." Similarly, Ev.io makes the list and is described as having "fluid and elegant gameplay [that] are reminiscent of successful franchises of the past, such as Halo and Quake." 
Less emphasis on the technology
If the content is put front and center, that can only mean one thing: the web3 technology itself needs to take a backseat. In fact, in many of the most successful web3 games, the tech is incidental, simply enabling new features rather than acting as the driving force behind the game. Murata acknowledged Sorare — an Ethereum-powered, NFT-based fantasy football league operator — as a "Web3 unicorn." 
Importantly, he points out, "​Though ​its back end ​relies on blockchain, ​users ​do not perceive it as a ​GameFi​ project​. They do not provide their native tokens, but they do provide their content first on ​Ethereum, which very much looks like the way to go for the industry at large." This light-touch approach will be important going forward, at least until the current stigma around web3 is overcome.
Less speculation — more fun and utility
Speaking of stigma, the web3 game industry will only overcome its less-than-stellar reputation if game makers move away from bald-faced speculation and emphasis on trading digital assets and instead embrace fun and utility as the goal. Trading and collecting games — which have a long history that precedes web3 by decades — are a natural fit for this new medium. Blockchain and crypto can be the building blocks for new, innovative versions of familiar trading game mechanics but making money the primary driver is a recipe for disaster.
We've seen this change happening as the idea of P2E games morph into Play-and-Own (P&O) games, which have similar mechanics to P2E games but place more emphasis on what's important — community, fun, and long-term economic sustainability. Earning and owning aren't the goals in these games; instead, they are used to facilitate character development, in-game narratives, and player interaction.
More holistic financial planning
Fundraising is complicated for any business, and many new founders have found a way around the old, legacy structures: crowdfunding. Web3 games took this to a new level by crowdfunding a game through token sales. This can be part of a helpful fundraising strategy — especially as it doubles as marketing — but it's not sustainable. Ultimately, crowdfunding needs to be tempered with other forms of fundraising, such as VC investment.
If crowdfunding acts as pre-release marketing, VC investment can help you vet your product. Answering the tough questions asked by seasoned investors is a valuable step on the way to launch. One of those questions will likely be about long-term monetization. More than likely, a sustainable monetization strategy will include marketplace trading fees, in-app purchases, and other familiar game monetization options.
Authentic community connections
We all know that social components of games can be integral to building a community of engaged users — but it's just as important to build authentic and holistic connections between your company and your players. Without players, your game cannot survive, so treating the larger community as stakeholders is just good business.
Take every opportunity to communicate directly and effectively with your players. From regular Ask Me Anything (AMA) sessions to newsletters with development updates and finance reports, keep your players in the loop — and, more importantly, listen when they give you feedback.
The future of web3 gaming is its players
Web3 gaming has experienced its share of growing pains, but that doesn't have to spell the end — in fact, it's just part of the maturation process of any industry. The decentralized nature of web3 games means players — the lifeblood of the gaming industry — can be more involved than ever through DAOs and guilds.
But companies need to put those players at the center of everything they do, which means staying focused on providing great content, being vigilant against bad actors, and creating sustainable monetization strategies that work for everyone involved.
Acting as if your players are company stakeholders will keep this all front of mind and ensure you stay on the right track as your game — and the larger industry — grows and evolves.
If you're building a web3 game, let us help you reach your growth goals!